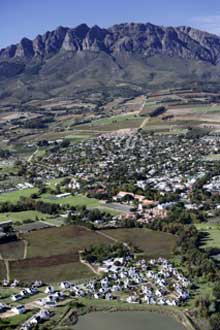 Heritage
About Wellington
Wellington is in the Western Cape Winelands, situated 73km north-east of Cape Town, South Africa. A thriving rural lifestyle is still the heartbeat of this proud little Boland town, which includes many working farms and smallholdings.
Growers raise a variety of deciduous and citrus fruits, including quavas, apricots, olives, avocado pears, mangoes and wine grapes, the most significant of our town's agricultural crops.
A flourishing brandy industry accompanies the more than 30 local wineries. Wellington is also home to Sedgwicks, distillers of the country's only indigenous whisky. Due to a superb harmony between geographical location, climate and local expertise, Wellington produces fruit of outstanding quality for both the local and export markets, making it the heartland of the dried fruit industry.
In addition, Wellington's vine-cutting nurseries are responsible for 95% of the country's vine stock production. Our farmers keep us supplied with fresh produce, flowers, honey, preserves, cheeses and a number of homemade delicacies, many of these organically grown.
Wellington is located at the base of one of the oldest mountain passes in the country, Bain's Kloof Pass, built by Scottish master road-builder Andrew Geddes Bain. The pass up to Bain's Kloof winds through pine plantations to the summit, where on a clear day, there is an unsurpassed panorama over both the Swartland and the Cape Flats, with Table Mountain as an imposing centrepiece. Bain's construction masterpiece is favoured amongst hikers and nature lovers for its sweeping views of the rolling landscapes beneath, resembling a giant multi-hued patchwork quilt, stitched together with the dark thread of spruce hedgerows that serve as windbreaks.
Bainskloof is in the heart of the Cape floral kingdom, the smallest and richest in the world, with 8 600 plant species (of these 5 800 endemic). Bainskloof has 277 flowering plants including 24 types of Erica, 10 Gladioli, 13 Protea and 182 birds, in addition to leopards, jackals, otters, honey badgers, klipspringers, steenbok, grysbok, endangered frogs, and some unique little fish in the streams. Bainskloof Pass was opened in 1853. This was the first inland pass—the Gateway to the North, and the country's interior.
Wellington has a strong sporting tradition and is the home of the Boland Rugby Union as well as the professional rugby team, the Boland Kavaliers.
The town's strong intellectual and academic culture is evident through various academic institutions such as the Huguenot College and the Cape Peninsula University of Technology Wellington campus amongst others. With a pioneering history in fields as diverse as education and agriculture, these disciplines still thrive as a result of persistence, ingenuity and exellence. Wellington attracts some 2300 students from across the country each year to study at its various tertiary institutions.
For many former urbanites, Wellington provides all the necessessary facets sought by individuals and families, to provide an abundant, inspired and tranquil lifestyle. The town is surrounded by a natural landscape that revives the senses, rejuvenates the mind and captures the heart. With our exquisite scenery, farming culture and bountiful heritage, there is plenty to see and do in our town. And there's plenty of beautiful, open country to do it in!
Wellington makes day-to-day business a breeze with all the major South African financial institutions, grocery stores and franchises located in the CBD for easy access. Ample commercial and residential premises cater for diverse markets from students, to companies, retail stores and restaurants, offering the serenity desired by today's elderly.
Along with all the good things we have, we're also blessed with a long list of things we don't have, like crowds, smog, earthquakes, tsunamis, bad attitudes and big cities.
We invite you to fall under the spell of one of the Cape's least-known treasures. Welcome to Wamakersvallei—God's own country...